Yellow Page Advertisement
Yellow Page Advertisement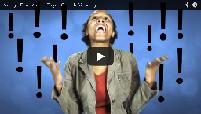 GARAGE DOOR COMPLAINTS was started in July 2014 by Joseph Lucey owner of Best garage Door Company of over 37 years. His father now retired after 53 years in the garage door and gate industry owned Universal garage door in Long Beach, Ca. Joseph Lucey also owns www.garagedooryellowpages.com and www.myyellowpagesplus.com these are both two low costing yellow page advertizing companies that are here to support business in growth.
www.garagedoorcomplaints.com is a well needed site within our industry that will grow with public comments as well as home owners that are being cheated and ripped off by garage door companies and their employees. I encourage the public to demand high values or ethics out of the companies they hire. I have wanted to put a stop to this decline in our industry for a long time but with little direction from the manufactures or wholesalers these companies continue to get supplied with new parts and new machines to continue to selfishly cheat and rip off good hard working people.
It is up to you the consumers to stand up and report these companies with your own words in a honest evaluation as to how you got cheated or ripped off. Let others know about the scams in your complaint to help prevent other home owners from getting cheated and ripped off.
I will be adding an area here for manufactures because it seems they to have been adding to this problem. Disappointing consumers with low quality garage door openers and parts through the home building stores. It seems people have to jump through hoops to get fast phone service, proper advice, and warranty parts from the manufactures and then they have to wait forever to get their parts in the mail.
These same manufactures have policy's in place that prevent us garage door companies from handling all your warranty service or part exchange so you could get faster service. The professional garage door openers we buy are with the same parts as the home building store unites but the factory won't let us handle the warranty on these unites. I believe for one that if your need for faster services is denied and you don't have the time or patients to wait then it forces you to just go out and by another unite. All I can say is GREED
The kicker is if genie makes you mad you're more likely to go out and buy a Chamberlin Liftmaster garage door opener. If the Chamberlin Liftmaster company makes you mad then you might buy a Genie. Most home building stores only offer these two garage door openers to buy. Sears sells the craftsman garage door openers made by Chamberlin Liftmaster and put sears craftsman name on them. Its a nice set up they have created ya?